Mark Brewer, B2B tech copywriter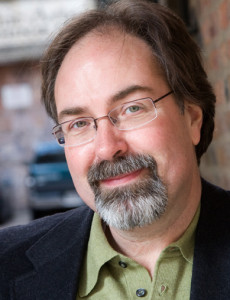 Effective content marketing has many moving parts, one of which is persuasive writing. Whether you're attracting quality leads, building brand awareness, carving out or redefining a market niche, or engaging in other business-building activities, inspiring your prospects to action is crucial.
Mark Brewer is an award-winning, deadline-driven writer with 30 years' experience inspiring and motivating a response from readers. Naturally curious, Mark is an experienced interviewer and tireless researcher who digs deep for facts, insights and a broad, thoughtful perspective that readers crave. Mark is an expert at focusing the message and audience for maximum results.
White papers
As a white paper writer, Mark helps marketers generate qualified leads for their innovative technologies and services. As a trade and association magazine feature writer, Mark examines topics from a broad perspective to empower readers to a higher level of success. As a storyteller, Mark forges emotional connections with readers that build brand awareness and loyalty, and converts readers to the next step of the engagement or sales process.
Email Mark or call (815) 565-7272 to discuss your marketing communications needs.
Clients
Mark's client list includes major corporations such as General Motors, Ford Motor Company, Electronic Data Systems, Motorola, Kraft, US Foods, Quaker Oats, Helene Curtis, Pfizer, McDonalds and others; associations such as the Association of Fundraising Professionals, the Association of Legal Administrators and the International Business Brokers Association; and nonprofits such as the Evangelical Lutheran Church in America. Other nonprofit sectors include senior care, social service and higher education.
Mark has feature articles published in Advancing Philanthropy magazine for the Association of Fundraising Professionals, Legal Management magazine for the Association of Legal Administrators, Living Lutheran magazine (formerly The Lutheran) for the 3.5 million-member Evangelical Lutheran Church in America, and FORZA magazine for the Italian car culture.
My Passion is Your Results: Why I'm a freelance writer
As an employee, my greatest gift and talent (writing) was secondary to other duties. Freelancing allows me to do what I love to do every day. As a dedicated marketing communications professional, I can focus on giving the best of myself and my professional experience to editors, marketers, fund-raisers and others with a thirst for customer, member, donor and reader success.
As a technical expert for Electronic Data Systems (EDS), I found that writing short tutorials on common solutions to be an effective time saver for me, my colleagues and our clients. So much so, I practically wrote myself out of a job! I got amazing feedback from our system engineers and clients praising me for my clarity. When other EDS analysts and engineers copied my format and style, I knew I was on to something.
After several years as a freelance technical writer and instructional designer for companies like Motorola, McDonalds, Upjohn (now Pfizer), Helene Curtis and Abbott Laboratories, I switched gears to write marketing copy for large nonprofits because they have great stories to share that emotionally illustrate the impact of their missions. I put my passion into practice around 1993 as a writer for the 5 million-member Evangelical Lutheran Church in America, writing success stories about their local, regional, national and international programs.
The Secret Ingredient: People and success focus vs. fact focus
Let's face it. Most writing is dull. That's because people are wired for stories, not facts. If your magazine, newsletter or other marketing is all about how great your organization is, you're putting your reader to sleep. Facts on their own don't motivate readers. Facts need a story context.
Focus on the needs, problems, struggles and frustrations of your reader. Illustrate the greatness of your organization, product or service through a powerful success story. Tell a story about how a real person benefited from your product or service. Through the story, make an emotional connection between the reader's problem and your solution. Through the power of story, you can make a real connection and start a meaningful relationship on a mass scale.
The crux of the secret is in telling the right story, through the right person, the right way. Good storytelling brings the reader through a success experience. It is through the experience that readers remember you and your value.
Other experience
There's more! Along with writing, I have more than 20 years experience as a marketing communications creative director and project manager, working with graphic designers, photographers, illustrators, writers, editors, copyeditors and others to create excellent professional results, on time and on budget.
That means that I can organize and produce entire communications projects for you, on time and on budget. My greatest gift in this area is the ability to apply the most appropriate resources to each step of the process to maximize results and efficiency. I won't put you in a Ferrari to get to the grocery store, or in a Model A Ford to get cross-country.
Email or call me today to talk about how I can help you make a meaningful and lasting connection with your audience.

Types of Writing
White papers
Feature articles (magazines, newsletters, blogs)
Front-of-book copy
Personal profiles
Success stories
Case studies
Fund-raising appeal letters
Nonprofit annual fund and planned giving marketing
"Ways to Give" brochures